Dear Family, Friends and Neighbors:
I hope this letter this finds you in the best of health and happiness.
I am Sheri Davis, and for those of you who are not already aware, I am running for the office of Douglas County Clerk and Recorder!
I have worked in the Douglas County Clerk's Office for 24 years (this August will make it 25!). I have seen so many changes throughout Douglas County, and our world, during that time. My youngest son was just beginning Kindergarten when Rita Crane, the Clerk in Douglas County at the time, hired me as the public assistant in the Recording Office.
I've had the good fortune to work for four Clerks during my tenure: Rita Crane, Carole Murray, Jack Arrowsmith and now, Merlin Klotz. Each one of them have imparted knowledge and skills on me that I use daily. And each of them has graciously endorsed my candidacy for the office. I am so blessed.
As I reflect on this experience, I'm proud to share some of the improvements I have brought to my fellow Douglas County citizens and our employees. I adopted new technology throughout every facet of the Clerk's office. New Recording software has enabled us to accept purely electronic documents — a huge cost savings as we no longer print paper only to scan and return them back to our citizens and the businesses we serve.
Additionally, we worked with the Douglas County IT Department to develop software to electronically deliver recorded documents to other departments that needed them. Again, we eliminated the need for time-wasting photocopying. When I think back to how we did business in the year 2000, with lots of scanning, printing, then re-scanning and processing… Trust me, we have come a long way!
When we bring new technology into Colorado, it requires national participation and information gathering. This is when Carole Murray and I began to make change happen, providing citizens with the ability to review records online. These tools were also helpful to other county departments and small businesses, aiding in their success as well.
In the Elections Division we moved to a statewide voter registration system. This was a big lift and the system has evolved ever since. But with change came many new issues to overcome. Additionally, we brought in new voting systems and change in voting methods.
This is when I personally led the fight to keep the controversial Dominion voting machines out of Douglas County. And now Douglas County is just one of two counties in Colorado that does not employ these machines.
When I began in the Elections Division in 2005, the voting law required voters to request absentee ballots in order to vote by mail, but we also had early voting and Election Day voting using voting machines.
In 2013 the Democrats took control of both houses of the legislature and the governor's office for the first time in 40 years. They took the opportunity to implement some of the most radical changes in election law history. The legislature enacting all-mail-ballot elections and same-day voter registration.
Over the next 4 years, these unprecedented changes required our office to spend an inordinate amount of time and money managing this new election process. We had to manage logistics for the mandated ballot drop-off locations, increasing capacity for processing incoming voted mail-ballots, and incorporate new technology for signature verification —while still delivering results by 7 pm on election night.
In 2017, I transferred to the Motor Vehicle Division where a new computer system was being brought onboard. I work on two separate State committees and work closely with County Motor Vehicle employees to usher in a new state-of-the-art technology to better meet the needs of our citizens. This new technology has allowed residents to conduct more transactions on-line, when it is convenient for them.
Additionally, I was excited to lead the effort to bring auto registration renewal kiosks to multiple King Soopers locations around the county. To date, these easy-to-use interfaces have provided approximately 85,000 residents the ability to renew their registrations while out buying their groceries or running other personal errands. It's all about making government smarter for people, not harder.
I've had a number of friends and family ask me, "why are you running for office when the political environment is so divided and lacking trust?"
To which I respond – That's exactly why I'm running! We have a crisis of confidence in our government today. Many of our fellow citizens have lost faith in the American dream--and who can blame them?
Our citizens deserve better. They deserve the most competent people we can find to serve at every level of government. Our public servants must be the most honorable stewards of every taxpayer dollar our government spends. They must be dedicated to findings solutions to solve our citizens needs as easily, quickly, and as efficiently as possible. We need people in government who are willing to fight to reduce the size and cost of running this big machine we call government.
Many citizens are not even sure where to go to solve their issues. And when they try, there is so much government regulation and red tape that the slightest mis-step can result in being fined or charged or heaven forbid being thrown in jail for a simple mistake. That is not the way America is supposed to work. As government employees, we work for the citizens -- not the other way around. No law-abiding citizen should ever be afraid of their government.
I have dedicated my life to serving Douglas County. I'm proud of what I, the staff and four different Clerk and Recorders have done to earn the confidence of our beloved Douglas County residents.
This is not a job to me; it's my passion! I am not a politician; I am a dedicated and professional public servant. More importantly, I am wife, daughter, mother, grandmother, friend, and good citizen. And, in case you can't tell, I have a passion for helping people. I am genuine, sincere, loyal and honest to a fault.
I am a dedicated to serve the residents of Douglas County — and am the most qualified person to serve as your next Douglas County Clerk and Recorder.
My entire career has been behind the scenes. So, as you can imagine running for office is way out of my comfort zone. Frankly, asking people for money scares me to death! But my campaign manager tells me that 90% of the money elected officials raise generally comes from the goodwill of friends and family like you.
So, here I am -- stepping out … would you please, prayerfully consider donating today to help me with the financial resources I will need to win this election?
By law, $2,500 is the maximum any one individual can give. (That means a couple can give up to $5,000.) But whether it's the maximum—or $1,000, $250, $150, or $75—any amount will help. Again, I am counting on the majority of my financial support coming from friends and family like you.
I hope I can count on you to stand with me and my fight to uphold the competence and confidence in our Douglas County Clerk and Recorders office. The trust and faith you place in me is something I cherish, and I'm thankful for.
Warm Regards,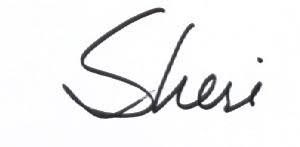 P.S. I am really stretching myself—but I need to know you are behind me.
Would you please make a contribution today? You can tap or click on this link—I tried to make it easy!